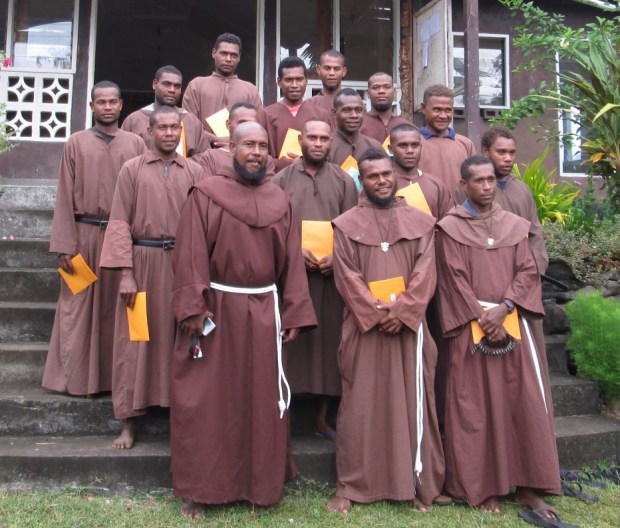 Environmental Success for SSF in the Solomon Islands
Our Franciscan brothers in the Solomons, have been working with the Dominican sisters and friars, through our partners in Geneva, Franciscans International and Dominicans for Justice and Peace.
We've highlighted issues of human rights abuses related to the widespread and increasing logging industry in Solomon Islands. This logging strips bare whole hillsides, and the round logs are exported without any processing. The devastation, ecological, social and spiritual, is profound and seemingly endless.
Through our Geneva partners who work through the human rights mechanisms at the UN we've lobbied their member states as part of the Universal Periodic Review of Human Rights. Some member states took our submission and made recommendations to the Solomons delegation at the UN. Of the seven issues relating to logging, SIX have been accepted by the Solomons government. These will be voted on in the next few days in the full assembly of the UN Human Rights Council.
These six human rights recommendations – accepted by the Solomons government – are:
104.68 Take appropriate legislative and administrative measures to ensure that the use of exploitation of natural resources, in particular logging, do not adversely affect the enjoyment of economic, social and cultural rights of local communities (Slovenia);
104.69 Protect human rights against abuses and environmental degradation by logging companies and ensure effective remedies when abuses have occurred (Slovenia);
104.70 That all forest exploitation projects include prior and informed consultation with the concerned local and indigenous communities, as well as a report on the environmental and human rights impact, specifically in the area of the rights to water and sanitation (Spain);
104.71 Take further measures to prevent and mitigate the human rights violations caused by business activities (Timor-Leste);
104.72 Ensure that policies relating to the environment take into consideration their impact on human rights and on communities (Philippines);
104.73 Ensure the conservation and protection of fragile habitats against deforestation and forest degradation, and strengthen sustainable forest management practices to protect human rights related to a safe, clean, healthy and sustainable environment (Canada);
By accepting these recommendations the SI will have to report regularly to the UN on its progress in keeping these human rights. We'll keep them up to the mark! But in a very positive way we can be part of the solution. NGOs such as ours have credibility at village level. We can work in villages, educating in human rights, and promoting more sustainable practices than extractive logging. There's still a long way to go, but a road has opened up.
As the SSF brothers in the Solomons prepare to celebrate their 50th anniversary this weekend, this news is one of the best indications of what we've achieved since our Franciscan presence was founded there in 1970. We've taken the voices of those who know and trust us in the villages, people who often are without voice. We've amplified their voices and taken them to the United Nations. Now, under positive international pressure, those voices are influencing government policy in the Solomons.
(in the photos – the Solomons Dominican / Franciscan coalition preparing lobbying information packs. And one of our many Zoom meetings!)